Total Mobile Protection provides peace of mind
Total Mobile Protection is available for a wide range of devices including basic phones, smartphones, data devices and tablets.

Device Protection
Stay connected.
With Wireless Phone Protection and Extended Warranty, receive next-day device replacement in the case of loss, theft, damage, or post-warranty defects.

Verizon Tech Coach
One call does it all.
Fast, personalized, and unlimited support for your Verizon Wireless device and everything it connects to from U.S.-based tech experts.

Verizon Support & Protection
Keeps your device running smoothly.
An app solution that enhances your Verizon Tech Coach experience and provides additional device security.
*Total Mobile Protection is a combination of four products each of which is available separately: Wireless Phone Protection, Extended Warranty, Verizon Mobile Security and Verizon Tech Coach.
Lost, stolen or damaged phone replacements are provided by Wireless Phone Protection, which is underwritten by Liberty Mutual Insurance Company or one of its insurance company affiliates. Asurion Insurance Services, Inc. (in NY, Asurion; in California, Agent License #0B35141) is the agent and provides the claims servicing under this program.
Replacements for post-warranty defects are provided through the Extended Warranty program; the obligor of the Extended Warranty program is Verizon Wireless Services, LLC.
Security features are provided through Verizon Mobile Security (VMS) which is a service provided by McAfee® and Asurion Mobile Applications and is not an insurance product. Not all VMS features are available on all devices. Technical limitations may prevent certain features (e.g. LOCK) from working on certain phones. Device must be powered on, have text messaging capability, and be within the Verizon Wireless Data Coverage Area for Verizon Mobile Security features to function. Data usage applies for download and use. Lock applies to internal phone memory only - does not lock or protect removable memory. Depending on your device, the erase feature will erase select data from your device and does not erase data stored on removable memory.
McAfee® and SiteAdvisor® are registered trademarks or trademarks of McAfee, Inc.® or its subsidiaries in the United States and other countries. Verizon Mobile Security AntiVirus and McAfee® SiteAdvisor® are available at no charge for eligible devices, regardless of enrollment in any of the programs.
File a Claim
Please have the following information when making a claim: wireless phone number, phone make and model, purchase date, and credit card for paying deductible for loss, theft, and damage claims.
Lost, Stolen or Damaged Claims:
Extended Warranty Claims:
Call Verizon Wireless at (866) 406-5154
More Ways to Stay Safe

Verizon Support & Protection
In a world where online dangers affect everything from laptops to smartphones, Verizon Support & Protection helps keep your device virus-free.
Basic - FREE
Premium - Included with Total Mobile Protection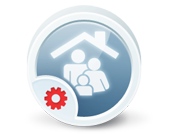 FamilyBase
FamilyBase provides you with insight and control over how, when and with whom your kids communicate.