Visual Voice Mail is an application that lets you access and manage voice mail messages instantly. The application sits on your device and stores all of your voice mail messages.
Visual Voice Mail allows you to:
Bypass the automated voice mail system
No longer have to listen to voice mail prompts
Simply click on the Visual Voice Mail icon to immediately access your messages
Save time by seeing who left a message and when
Choose the message you need to listen to
Listen to messages in any order
Delete, respond or even save a copy for future use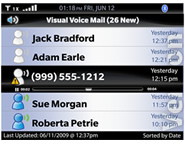 Visual Voice Mail saves time and improves your ability to communicate.
Only $2.99/month
View Demo